| | | |
| --- | --- | --- |
| | Support Bob Stone | |
Pappas Tries to Put Good Elderly Ideal Tenant on the Street
in landlord retaliation for reporting Housing Code violations
The Pappas Tenant Association is honored to help Robert Stone, a heroic tenant, who is standing up for his rights against Pappas Realty.
Robert Stone has been an ideal tenant, making improvements to the property he rents from Pappas, at his own expense. He has managed the property for years, saving Pappas Realty a lot of time and money.
He has been a friend to all, and generously threw picnic parties for tenants and neighbors. He has been an active citizen, organizing events to give citizens the opportunity to meet their representatives and candidates for public office.
For this, the cruel landlord Pappas "repays" Stone with a court order to vacate, and a bill for over $7000 in fictional expenses!
It is wrong that public legal resources belonging to the good people of the Commonwealth of Virginia should be used to put an elderly man, with some health issues, on the street. The psychological and physical stress on a person ordered to leave his home is considerable. Let us put a stop to this action.
There is no reason Pappas Realty should want Bob Stone out. Pappas has a mansion and does not want to live in the property. Pappas has no plans to make improvements on the house. He apparently just wants to display his power to turn another person's life upside down. Bob Stone has done nothing wrong as a tenant.
Pappas has mistreated many tenants, including:
Transcendental Meditation Center - did not return $1000 security deposit as promised
Reverend Paul Skevington - did not return full security deposit to a minister as promised
Rick Shaddock - raised rent $600 in 3 years, and did not return $1600 security deposit as promised
Pappas fails to fix light that emits sparks, causing house fire, and hides this from insurance company.
Marvin - asked handy man to trump up expenses against tenants
Monica S. - attempted to take $1275 security deposit
Allison S. - attempted to take $1275 security deposit
Bob Oelberg - paved over garden and trees to make parking lot without asking
Pappas rents out parking spaces, not specified in the lease and violates Arlington Zoning laws
Billy Bayne - unjustly tows Mercedes from said lot
Sally Wood - Pappas wrongfully evicts an elderly lady
Pappas evicts and discriminates against "those niggers" and "latinos"
Bob Stone - attempts to put paying, elderly tenant on the street.
This is retaliatory conduct for Bob's participation in the Pappas Tenant Association
in violation of Virginia Law § 55-248.50.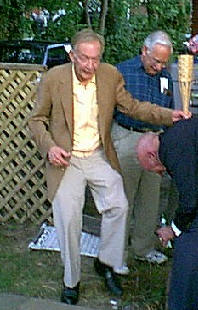 In happier days, organizing a party
---